About Abdo Empowered
My Journey to Becoming the Proud Owner of an Ostomy
I was diagnosed at about 36 with ulcerative colitis - an autoimmune disease that affects the bowel. I managed my UC with medication, a mostly low-residue diet and the odd course of steroids to manage rogue flare ups.
About 3 years ago, my tablets suddenly stopped working and I became dependant on steroids. Well, they were helping a bit but it got to the stage where I couldn't leave the house due to my symptoms - bleeding, urgency and fun stuff like that.
Unfortunately, blood tests and inflammatory markers were coming back close to 'normal' and it was very difficult to get across to doctors about how bad things really were.
I ended up having a colonoscopy privately which showed that the disease was now severe and active, and was affecting much more of my bowel. While this was a bit of a shock, I was so relieved to be able to prove that while my blood markers were normal, my disease was flaring badly.
Though my husband Andrew has ongoing treatments for blood cancer, we are 'active relaxers' and whenever we can we enjoy camping, walking, biking, boating and paddle boarding. So this was a very frustrating time for us.
I ended up on immune suppressants, steroids and monthly biologic infusions. Sadly, none of them were working for me and the side effects were scary, especially considering I was not getting any improvement in quality of life. The decision was made to have my bowel removed - a total colectomy. Yes, it was a daunting decision to make, but really the only one left. I would be a "Bag Lady".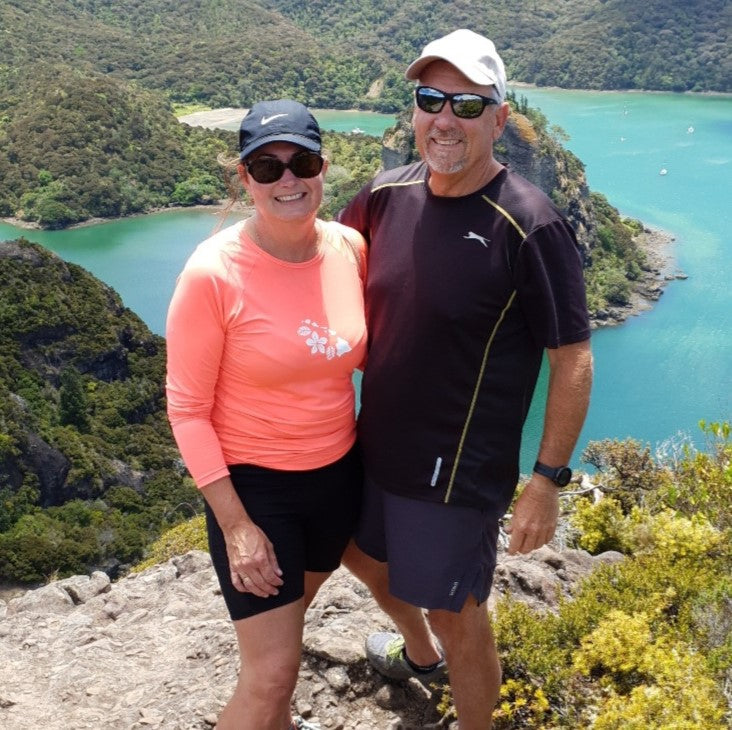 My first operation was in February 2021.  Following that surgery I was assured by my surgeon that we had made the right decision. I had the option to have J-Pouch surgery and a reconnection a few months later, however as I was still experiencing inflammation and my life had improved so much with my ostomy, I decided that I didn't want the reconnection.
I then had what we call a 'Barbie Butt' operation in July 2021. And just to keep life really interesting, I had a hip replacement in August the same year - luckily, I recovered well from all three operations!
The Creation of Abdo Empowered
Talk about timing! Away from New Zealand and on an unexpected break on the Sunshine Coast in Australia, I found myself up at 2am in a lot of pain. I searched online for the type of support band I'd been trying for months to get at home and stumbled across a manufacturer, right there on the Sunshine Coast!
I called them that morning and, unbelievably, they had just developed the exact belt I was looking for. They asked me to trial it. That's synergy right there! The belt worked great; it was comfortable and helped me on my way to healing.
Long story short…I loved their products so much that we decided to stock them back home in New Zealand. We had them up on Abdo Empowered (which was already made and waiting for just the right products) within days. 
With the help of these quality Support Belts, I am now back to living a great quality of life; camping, walking, biking, boating and paddle boarding - all that fun stuff! While we continue to work with manufacturers to bring you more great products, we hope you have found us at just the right time and that our products help you as much as they have helped me!

- Lisa xx